Professional House & Residential Painters Brisbane Wide
Whether you're designing a new home or sprucing up your old one, painting home interiors will likely be one of your major activities. If you're looking for residential painters Brisbane wide that can give your home the colour and finish you envision, look no further than E and A Painting Solutions.
We've been painting homes and properties since 2004, and we've developed an expertise for painting home interiors and living spaces. With our superior finishes, quality materials, and uniquely personal service, we'll help you make your home more beautiful than ever.
Contact our team today to get a quote or to find out more about what our residential painters in Brisbane can do for you.
Our Interior Residential Painting Services
At E and A Painting Solutions, we offer a complete range of interior painting services that has everything you need to make any design modification in your home.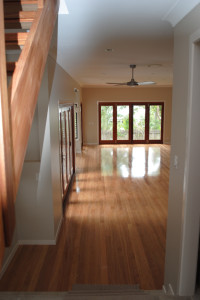 Interior House Painting – We can paint any room and living space in your home, whether it's bedrooms and living rooms with simple configurations or kitchens and bathrooms with more complicated layouts.
Faux Finishes – Want a unique finish on your wall that goes beyond plain colours and patterns? Faux finishes may be what you're looking for. We're experts at creating faux finishes that can give your walls or floor a richer and more textured look.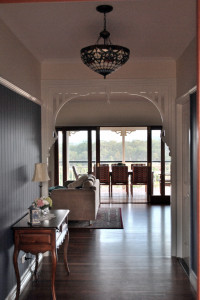 Wallpaper Painting – If you have wallpaper on your wall that you want to replace with a new coat of paint, we'll help you do it in the most effective way possible. We'll asses your property and recommend your best option for completing the job, whether it's tearing it down before painting or directly painting over it.
Graffiti Removal and Prevention – Got any graffiti or unwanted marks on your walls? Our team can remove these for you and apply paint or products that can help prevent such markings from happening again.
Colour Consultation – With all the choices available for paint colours, choosing a colour (or combination of colours) can be difficult. If you need professional advice on what colours and types of paint to use, you can consult with our team. We have decades of experience in the painting and decorating industries so you can be sure we'll know what will and what won't work for your living space.
Why Choose E and A Painting Solutions
When it comes to painting the interior of your home, regular painters just won't do. What you need are painters who know what they're doing and know how to bring the best out of your walls and floors. For many homeowners and property managers throughout Brisbane, E and A Painters have long been the residential painters of choice.
Here's why clients turn to us:
Professional

With E and A Painting Solutions, you'll always get true professionals. We're renowned for taking great pride in our work, and we always see to it that you get the service you deserve as our client. This professionalism extends to all aspects of our work, from the quality of our painting solutions to the smallest details that make our service even better.
We'll always come on time, work according to schedule, consult you for any changes, and clean up after ourselves – exactly what you would expect from the best house & residential painting Brisbane service today.
Qualified Experts

Painting takes a certain level of skill and expertise, and house painting perhaps even more. Our residential painters in Brisbane are among the most skilled painters in the Queensland region, and we've developed a mastery of painting home interiors.
In fact, we're one of the select painters that are officially accredited with Dulux, one of the leading brands in the painting industry.
If painting expertise is what you're after, you'll find it here at E and A Painting Solutions


Experienced
Beautiful house painting requires more than just skill and expertise; it also requires experience and practical know-how. Every house is different, and each property will have different layouts and requirements – not to mention its own quirks.
And this is where our experience comes in. With over 40 years of combined experience in the painting and decorating industries, we'll know what solutions will work best for your property, whatever type it may be
Quality-Oriented
If there's one thing our work is most known for, it's high quality. As one of the top residential painters in Brisbane, we're obsessed with providing the highest quality of work we can provide. We give each client the same high level of dedication and service, no matter how big or small the job may be.
As part of this commitment to quality, we also see to it that we use only first-rate products and materials for our work.
When you work with E and A Painting Solutions, you can tell almost immediately the difference in the quality of work you're getting.
---
Benefits of Painting Home Interiors
If you're still undecided about painting (or re-painting) your home interiors, know that it can provide a variety of benefits that may make your decision easier. Here's what painting home interiors can do for your home or property:
Repainting old walls and floors is one of the most effective ways to breathe new life into an old house or property. When it's done properly by professionals, you won't even be able to tell how old the building is after applying a new coat of paint.
Looking for a quick and simple way to change the mood in your room? Repainting it is one of the best ways to do it. A change of colour and texture can make a room seem completely different, even with the same furniture and décor.
Painting walls does more than just give it some colour and texture. In some cases, it can also help protect them and make them stronger. There are products that can make walls and floors more resistant to marks and damage, making them beautiful and durable at the same time.
When done properly and tastefully, repainting your house can significantly increase its value. Not only can a professional paint job make any old property look like new again, but it can also be used to highlight its most attractive features. This can effectively increase its value in the market, especially if you're considering selling it soon.
Complications of Painting Home Interiors
It's easy to see the benefits and improvements that house painting offers. What's not so easy is doing it right. Here's why you should always consider hiring painting professionals if you're thinking of painting or repainting the inner spaces of your home:
Painting interiors involves more than just taking a brush and applying paint over a wall. It involves steps such as preparation, surface protection, priming, and painting, all of which make the painting process more complicated than it appears. The pros may make it look easy, but it's anything but that in reality.
There's no doubt about it: painting is a messy activity. Although this may not be an issue when painting outdoors, it's a completely different story when painting inside your house. Painting indoors requires much more care and attention than outdoors, especially if you have plenty of furniture and household items inside.
Given how complicated painting home interiors can be, it's no surprise that it can also be quite time-consuming. This is particularly true if you want to do it right and want the best look and finish you can get.
Although you're free to paint your home however you like, there's no guarantee that your favourite colours and patterns will actually match your home interiors. Finding the right colours, patterns, and paint products can be difficult, especially with the countless choices you have available.
One of the Most Trusted Residential Painters in Brisbane
When it comes to painting your home's interiors, only the best will do. And when it comes to the best painters in Brisbane, E and A Painting Solutions has long been one of the top choices.
Focusing on superior finishes, personal customer service, and the best tools and materials available, we've built a reputation as professionals who always get the job done. Our certification as a Dulux-accredited painter is proof of the quality of our service, ensuring our high level of craftsmanship and professionalism in every job.
Get a quote today and find out what we can do for you by contacting our team. If you have any questions or enquiries about our house painting Brisbane services, you can also send an email to info@eandapaintingsolutions.com.au.